Award winning "Goodwood 12" ON SALE!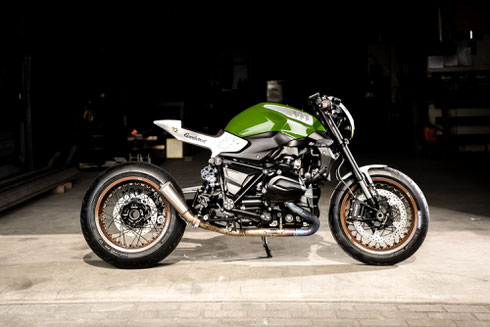 Wir haben im Internationalen ESSENZA Design & Drag Race Wettbewerb den wichtigen 2. Platz der Fachjury Design gewonnen und sind an der Customizer Spitze angekommen.
Geholfen hat sicher auch die weltweite Medienpräsenz der Goodwood und unserer sehr sympathischen "Werks" Fahrerin Amelie Mooseder (in zahlreichen grossen Magazinen aus Europa, USA, Japan etc. mehrseitige Berichte).
Das nächste Projekt steht schon in unseren Köpfen,deshalb brauchen wir Platz.
Deshalb: Goodwood 12 steht ab sofort zum Verkauf für 45`000.- CHF (inkl.Strassenzulassung & "Bussi" & Unterschrift von Amelie auf Tank ;-)
BMW R1200 R LC, Modell 2016, Neufahrzeug mit 50 km (Amelie auf Tacho)
Konkrete Anfragen & Details zu den Umbauarbeiten und zum Bike bei dani@stucki-2rad.ch
We are very proud of the 2nd place in the International ESSENZA Design & Drag Racing contest.
After several articles in International custom magazines arround the globe and with the support of he very likable bavarian rider-Amelie Mooseder-we have already a new project in our heads...
So: Goodwood 12 is on sale for 45`000.- CHF (Swiss street legal and with "Bussi" signature of Amelie on his gas tank cover)
It`s A BMW R1200 R LC, Year 2016, New (only 50 km Amelie on is speedo)
For serious offers or detailed information about the customizations-please contact: dani@stucki-2rad.ch